Citrix Workspace-app voor Android
Uw account instellen
U kunt een of meer accounts instellen om toegang te krijgen tot uw bronnen.
Een account maken
Wanneer de Citrix Workspace-app voor de eerste keer wordt gestart, kunt u kiezen uit een aantal accounts in het welkomstscherm:
Om een demonstratieaccount uit de Citrix Cloud te proberen, voert u uw registratiegegevens in en gebruikt u de beschikbare toepassingen.
Om toegang te krijgen tot de toepassingen van uw organisatie, voert u de door uw organisatie verstrekte accountgegevens in.
Klik op de startpagina van de Citrix Workspace-app op het pictogram + rechtsonder in het scherm om het dialoogvenster Account toevoegen te starten.

Voer in het dialoogvenster Account toevoegen de store-URL in die door de IT-beheerder is verstrekt.
Opmerking:

U kunt het e-mailadres op uw werk gebruiken om toegang te krijgen tot bronnen. Voor sommige organisaties hebt u het serveradres van uw organisatie nodig, bijvoorbeeld servername.company.com.
U hebt uw verificatiereferenties, zoals gebruikersnaam, wachtwoord en domein, nodig.
Een account bewerken
Selecteer Bewerken om het Citrix Gatewayadres en verificatietype voor een specifiek gebruikersaccount te wijzigen.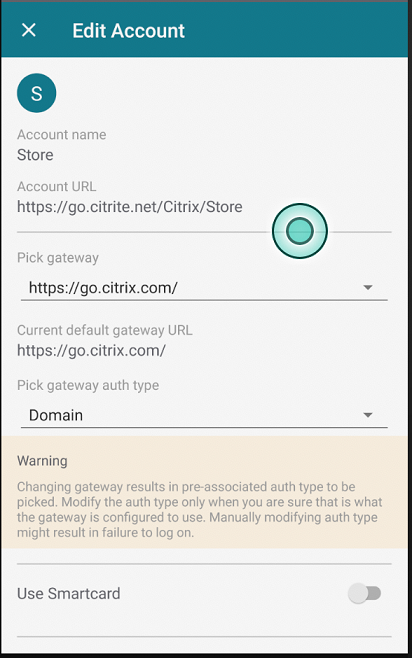 Een bron starten
Tik op uw apparaat op Apps of Bureaubladen om de bronnen weer te geven waartoe u toegang hebt.
Bron toevoegen aan het beginscherm
Klik op het sterpictogram op de bronpictogrammen om de apps of bureaubladen aan het beginscherm toe te voegen. Een gele ster geeft aan dat de bron al aan het beginscherm is toegevoegd. Als u de bron uit het beginscherm wilt verwijderen, klikt u op het gele sterpictogram en de bron wordt uit het beginscherm verwijderd.
Een certificaat installeren
Als uw organisatie een certificaat op uw apparaat vereist, moet uw organisatie een webadres voor de download verstrekken of het certificaat als e-mailbijlage verzenden. Wanneer u het bestand hebt, tikt u erop om het certificaat op uw apparaat te installeren.
Meerdere accounts maken
U kunt meer accounts maken, elk met verschillende favoriete toepassingen en instellingen. Tik in de lijst met accounts op Account toevoegen.
Een account verwijderen
Selecteer op de pagina Accounts het prullenbakpictogram bij het gebruikersaccount.
Copied! Failed!