View and sync your contacts
You can view your contacts in Secure Mail and from other mail accounts you've set up. You can also export your Secure Mail contacts and sync them with other mail accounts on your device.
Note:

This feature is available for iOS and Android.
To view your contacts
Tap the Contacts icon in the tab bar, and then tap the ellipses icon. The Contacts screen shows the following:
All contacts: Displays all contacts from multiple email accounts. This option appears only if you set up multiple email accounts.
Individual email account: Displays contacts relating to the particular email account you set up.
Categories: On Android, displays contact categories that you have created or selected from a predefined list for grouping contacts.
Contact folders or subfolders: On iOS, displays contacts from folders or subfolders you created in Microsoft Outlook.
To view contact folders or categories
In the contacts screen, tap an email account to view the contacts associated with that account.

Note:

All Contacts appears only if you set up multiple email accounts.

On iOS, to view the contacts from a contact folder or subfolder, tap the respective folder or subfolder. The contacts associated with that folder appear.

On Android, tap Categories to view the contacts grouped under specific categories.
To sync with local contacts
Tap the Settings icon, go to CONTACTS > Sync with Local Contacts and then tap >.
In the Sync Local Contacts screen, enable the account with contacts you want to sync.
Tap OK.
When prompted to allow Secure Mail to access your contacts, tap OK.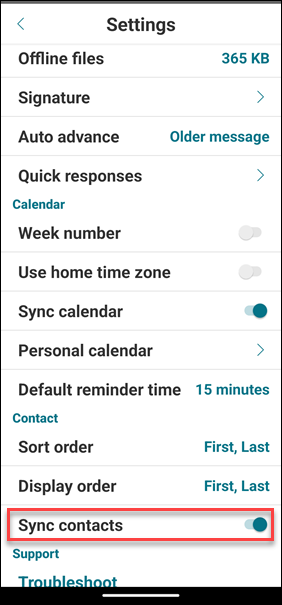 To disable the feature, go to Settings > Contacts > Sync with Local Contacts. Tap the switch next to the account to disable this feature. Tap Yes, Delete to confirm your action.
View and sync your contacts
Copied! Failed!