Organize your email
You can view your unread emails, meeting invites that require your attention, and upcoming meetings in the Feeds screen. To organize your mail in Secure Mail, you organize your Feeds card.
Note:

This feature is available for iOS and Android.
You can:
Add up to three email folders.

The added folders appear as cards on the Feeds screen.

Reorder your existing cards.
Remove an existing card.
In Secure Mail for Android, you can add cards for peers and direct reports. You can also create folders such as VIP or Flagged.
To start, tap on the Manage Feeds button in your feeds view.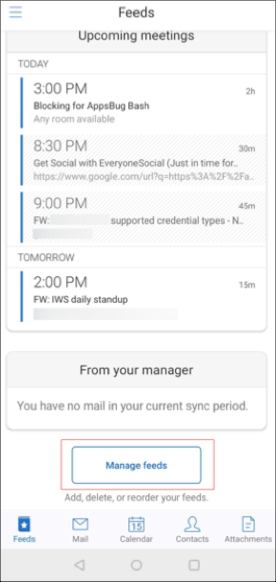 Or, tap the Manage Feeds option under MAIL from your settings screen.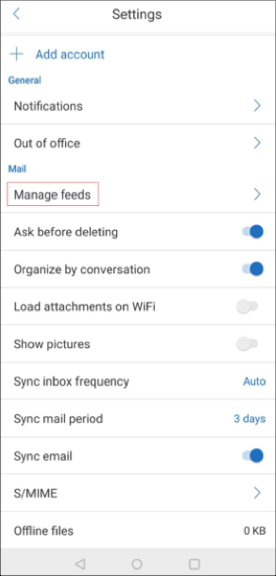 You can add, reorder, or delete your cards based on your preference.
To add a card
Tap All Cards or All Folders tab.

Tap the Add icon (+) on the top left of your screen to select cards of your choice.

Tap Done.

The cards you have selected are added and appear in your feeds.
To reorder your cards
Tap the Manage Feeds button.
From the available cards, tap and hold to select a card.
Move the card to the desired location.
To delete a card
Tap the Manage Feeds button.
Tap the - icon next to the cards.
Tap Done.
The cards are removed from your feeds.
Copied! Failed!