Uw e-mail organiseren
U kunt uw ongelezen e-mails, uitnodigingen voor vergaderingen die uw aandacht vereisen, en komende vergaderingen weergeven in het scherm Feeds. Om uw e-mail in Secure Mail te organiseren, moet u uw Feedskaart organiseren.
Opmerking:

Deze functie is beschikbaar voor iOS en Android.
U kunt:
maximaal drie e-mailmappen toevoegen;

De toegevoegde mappen worden weergegeven als kaarten in het scherm Feeds.

uw bestaande kaarten anders rangschikken;
een bestaande kaart verwijderen;
In Secure Mail voor Android kunt u kaarten toevoegen voor collega's en directe ondergeschikten. U kunt ook mappen maken zoals VIP of Gemarkeerd.
Tik om te beginnen op de knop Feeds beheren in uw feedsweergave.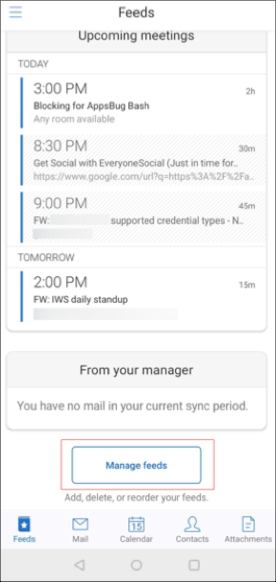 Of tik op de optie Feeds beheren onder MAIL in het scherm Instellingen.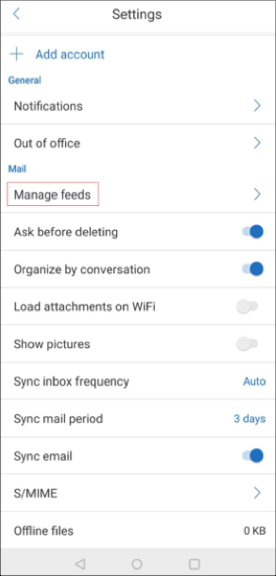 U kunt naar eigen voorkeur kaarten toevoegen, anders rangschikken of verwijderen.
Een kaart toevoegen
Tik op het tabblad Alle kaarten of Alle mappen.

Tik op het pictogram Toevoegen (+) linksboven in het scherm om kaarten naar keuze te selecteren.

Tik op Gereed.

De kaarten die u hebt geselecteerd, worden toegevoegd en verschijnen in uw feeds.
Uw kaarten anders rangschikken
Tik op de knop Feeds beheren.
Tik op een kaart in de beschikbare kaarten en houd deze vast om de kaart te selecteren.
Verplaats de kaart naar de gewenste locatie.
Een kaart verwijderen
Tik op de knop Feeds beheren.
Tik op het pictogram - naast de kaarten.
Tik op Gereed.
De kaarten worden uit uw feeds verwijderd.
Copied! Failed!